Shocks,
Struts
and
Suspension
Repairs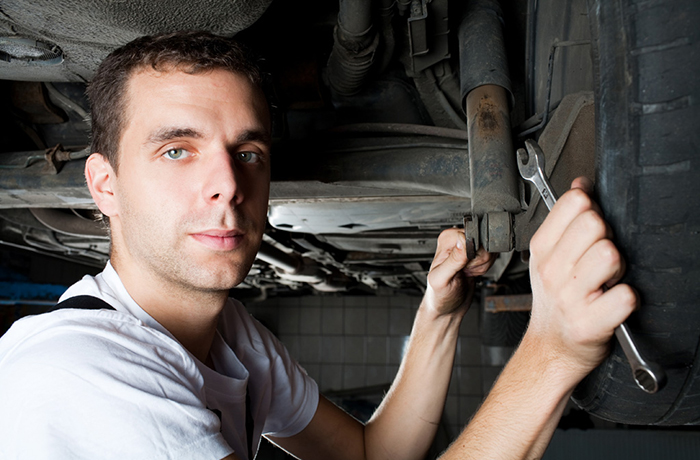 SHOCKS

AND

STRUTS

Your vehicles shocks or struts are components of your car or trucks suspension system. They actually help reduce the bouce gerated by your car or truck as it traveks down the road.  It is important to inspect your shock and strut regularly to maintaining quality of car or trucks handling characteristics. Blown or worn out shocks and struts can cause the handling of a vehicle to deteriorate to such a point that it is unsafe to operate.  Kwik Kar Willow Bend's  service professionals can replace worn out shocks or struts, so your car will handle just like it was new.
Kwik Kar Willow Bend has the experiences staff to determine when and what needs to be addressed on your vehicles suspension to insure your vehicle is operating as it is intended too. Worn out or broken suspension parts not only effect the comfort of your ride but can present a serious safety hazard. Normal wear and tear will inevitably result in parts needing to be replaced.
Shocks and Struts They keep the tires from bouncing which causes loss of road contact and they also keep the vehicle body weight from shifting and rolling which causes a loss of vehicle control and handling. The shock absorber regulates the movement of the spring and is the final crucial link in ensuring a smooth and more importantly safe ride. While shocks or struts can fail suddenly often they wear out slowly and you may not notice a problem at first.
Springs  Your vehicles springs are what actual support the weight of your vehicle as it goes down the road. Your vehicles springs under normal conditions will last a long time. Many people never have to replace their vehicles springs. However if you use your vehicle for towing or carry heavy loads, springs can be effected. You should never carry or tow more than what your vehicle is rated to accommodate. You can damage not only suspension parts but many other components with in your vehicle.
Steering Components  Like shocks and struts, steering components are going to wear out. Failure to address problems with a vehicles steering system can result in serious loss of control of your vehicle. There are three major parts of your steering system, simply put: (1) the steering wheel and attached shaft in the steering column, are connected to the steering gear.  (2) The steering gear changes the turning motion of the steering wheel to linear, side to side, motion.  (3) The steering linkage such as the tie rod and tie-rod ends transfers the linear motion to the tires. Today's vehicles have very complex steering systems and essentially all the parts are subject wearing out.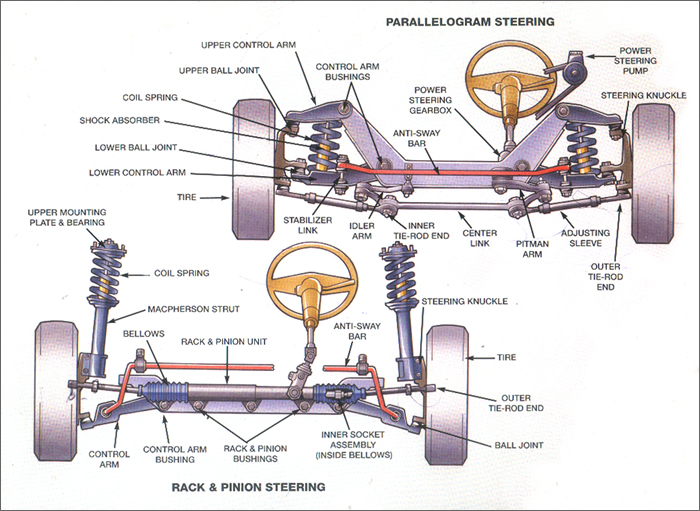 You should look for:
Vibration/Shimmy/Shake When Driving
Constantly Stiff Electric Steering
Stiff Steering on One Side Only
Constantly Stiff Hydraulic Steering (Low Assist)
Leaks on the Driveway or Parking Space
Intermittently Stiff Hydraulic Steering
Steering Wheel Off Center
Steering Not Returning to Center After a Turn
Steering That Pulls or Drifts
Squeals